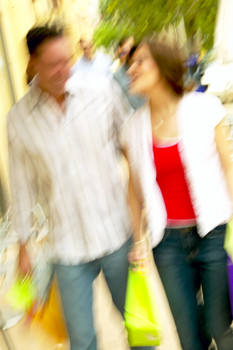 How I Did It
Online dating builds road across ocean
By DANA AND ALAN ROBB
as told to Kathleen Arenz
Sunday, May 18, 2003
A lot of people are wary of online dating. But our experience led to happiness and marriage.
Dana lived in Wauwatosa; Alan was from Fife, Scotland. We met a year ago in April on the Friend Finder site (www.friendfinder.com). It's a dating matching service but also has chat rooms just for conversations. Neither of us started out to find a mate. We were just interested in meeting friends.
We wandered into the same chat room. Alan was intrigued by Dana's handle, "Barefoot Gal."
It was cold then both in Milwaukee and in Scotland, and our first conversation was about the weather and where we'd go if we could get away from the snow.
During our second conversation the next day we left the chat room and switched to instant messenger. We IM'd for nearly four hours.
Our third step was a phone call. We talked for at least 12 hours, sharing Web pages of our respective cities and digital photos of ourselves. We either instant messaged, e-mailed or talked three to four hours every day after that. Dana's phone bill that month was $600.
We wanted to meet in person so Alan came here for Dana's birthday in June.
It felt like home to him, and we both knew we'd found the real thing. We wanted to marry. On the way to the airport we stopped at the INS (Immigration and Naturalization Service) office to find out about getting him a visa.
We got the paperwork (online) and embarked on the journey from hell. The visa process that used to take a month took from July to February because of all the post-Sept. 11 red tape. During that time, we made several trips back and forth and met each other's families.
The final step to the permanent visa was an interview at the American Consulate in London. Dana flew over for that. We were grilled about our marriage being one of convenience. We replied that it was the most inconvenient thing we'd ever done!
This February, Alan got his permanent visa and came here for good. We were married April 13. We bought our rings on eBay and got a lot of things for our wedding online, in keeping with our history. Now we've signed up for a chat room support group for people in U.S.-UK marriages.
You can meet your soul mate online. The advantage to the way we met is that we got to know each other through communication.
Copyright 2003 Journal Sentinel Inc. Note: This notice does not apply to those news items already copyrighted and received through wire services or other media
Provided by ProQuest Information and Learning Company. All rights Reserved.